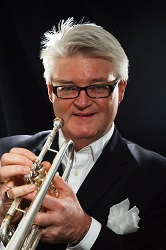 Experts in a SMH article describe army spending on musical instruments as 'frivolous' and accuse the Army Band of 'ripping somebody off'.
The article, largely disdainful in its tone towards the Army musicians, has angered professional musicians and music educators across Australia.
Richard Gill AO, one of Australia's most renowned music educators, was scathing in his criticism of the article. 'Better to spend money on making music and keeping people alive than spending money on weapons and killing people' said Gill, Patron of the NSW School Band Festival and Australian School Orchestral Festival.
Paul Goodchild (pictured), Associate Principal Trumpet with the Sydney Symphony Orchestra, was equally critical of the article. 'Any professional musician would easily spend between $5000.00 and $10,000.00 on an individual instrument' says Goodchild. 'A professional standard tuba could run to $20,000.00 or more. Most professional players would own several instruments.'
While no one would contest that Defence expenditure should be accountable and transparent, the condescending tone of the article, singling out $4.4 million of music expenses in total contracts worth $434,141,533 adds nothing to an intelligent discussion regarding Defence spending and risks a knee jerk reaction which would further diminish an already reduced and under resourced area of our military heritage.
'Blowing his own trumpet (sic): But how much did it cost?' is the fatuous caption accompanying the photo of an army bugler, playing a bugle, not a trumpet. Would Australians prefer we have a recorded version of the Last Post at the ANZAC Cove Dawn Service? Would they prefer taped music at ceremonies welcoming our Head of State or honouring the return of fallen soldiers?
Every time the navy fires a surface to air missile in a training exercise they are literally blowing up hundreds of thousands of taxpayer dollars. A high quality handmade musical instrument will last for decades and, in the right hands, give pleasure to thousands.
The Army, Navy and Airforce bands, although significantly diminished in recent years, continue to provide a valuable service to the community on a daily basis, and are important promotional vehicles for the armed forces.
Defence bands provide entertainment via free public concerts and support education by working in our schools. Besides a handful of professional orchestras across the country, they are one of the few institutions helping to train a pool of musicians who go on to work in other areas of the arts, enhancing our communities and creating a more vibrant and culturally rich nation.
Call for transparency, by all means, but keep some perspective.