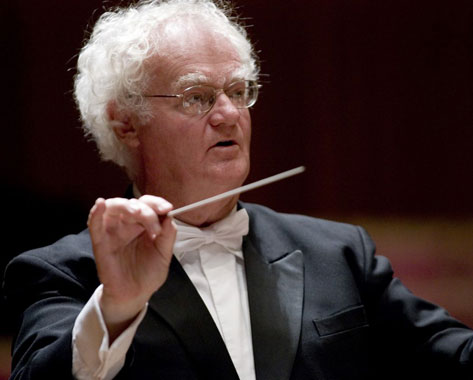 In 2018 Australia lost one of its national treasures with passing of Richard Gill. Richard had been battling cancer for over a year.
The world knew Richard as a celebrated conductor and music educator. We knew him as a friend. Richard was great mates with the Festival founder, Cliff Goodchild, and on the day before Richard died, Cliff's son, Paul (Assoc. Principal Trumpet SSO and ASBOF Board Member) organised an impromptu band of musicians to gather outside the Gill family home in Stanmore and play the Dam Busters March and Waltzing Matilda.
'This was the perfect way of saying thank you, goodbye and a great tribute to somebody who has made so much of a difference, not only to the lives of musicians, but to everybody who really listens to music', Goodchild said.
"I expected maybe 15, 20 people to turn up and we had over 70 there, and even the police band turned up as well."
Richard was the Patron of the NSW School Band Festival, The Australian School Orchestral Festival, and ABODA, and was passionate in promoting music education and Australian music. 'Every child deserves a music education' was his catch-cry.
Richard had been involved in the discussions and plans for us to become the Australian School Band and Orchestra Festival and was very supportive of the move.
Australian Romantic and Classical Orchestra chairman, Richard Kefford, summed it up when he said, 'Richard will be remembered as a giant in Australian music, an iconic conductor, teacher and passionate campaigner for music education.'
As Paul Goodchild said at the time, we have lost one of the most amazing advocates for music and music education, however, he has left a legacy and remains an inspiration for others to follow.