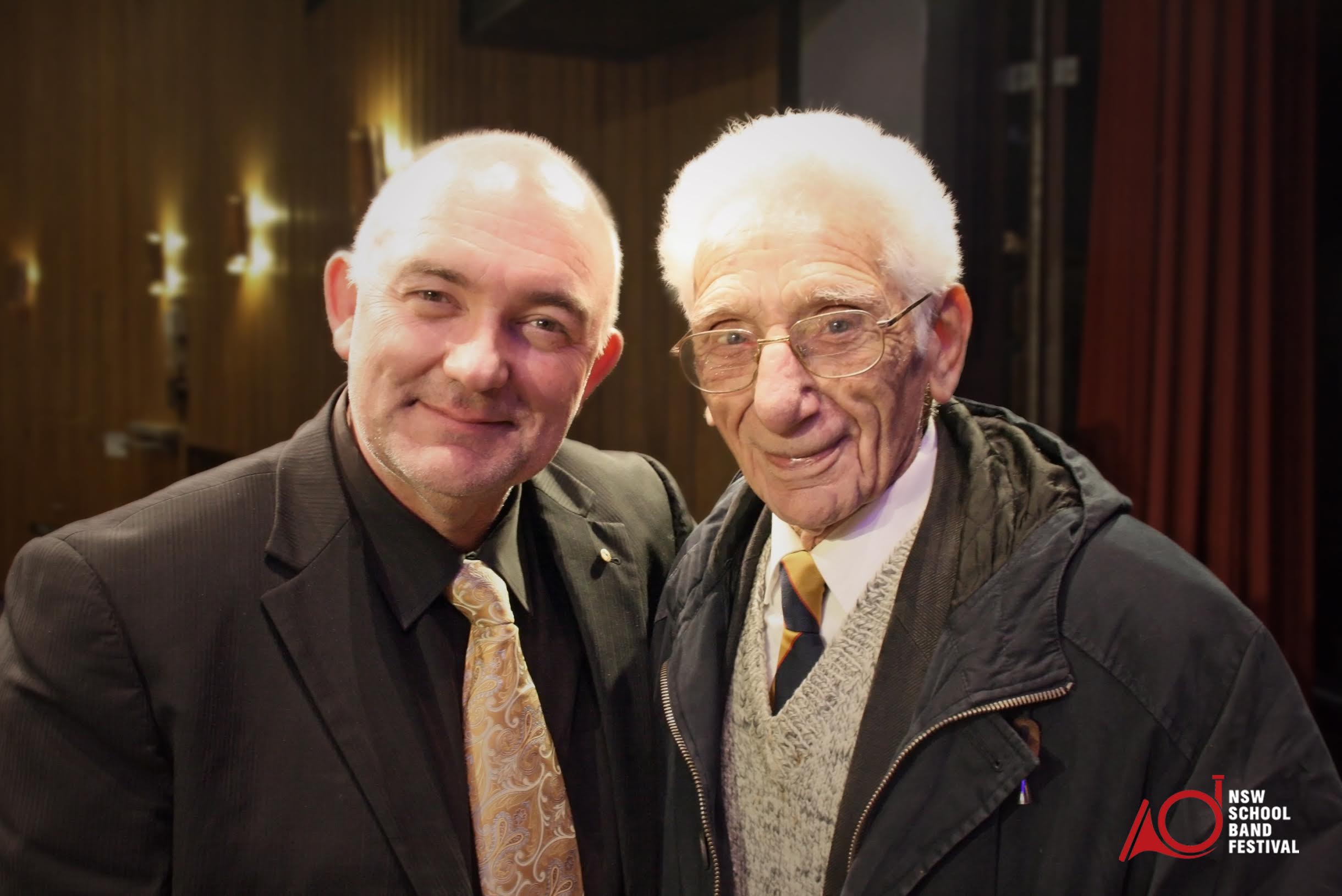 Sid Gould
Sid has played bass trombone in Bondi Brass for as long as just about anyone can remember. He is still one of the first to show up to rehearsal and assist in setting up and is always the first to put his name down to volunteer for the SBF. Sid, we salute you!
Photo: Sid with James Morrison
Frank Coughlan Event 2015
When did you first start playing?
I started relatively late. It was in 1960 and I was 34 years old. I saw a trombone in a city music shop window for twenty pounds so I bought it and a tutor book called 'A Tune a Day for Trombone'. I enjoyed the challenge of learning and would practice up to three hours a day. After a few months of progress I bought the 'Arbans Trombone Tutor. I'm still using it 50 years later!
What sort of music do you enjoy playing?
I've played in a few bands over the years including jazz and swing bands, and of course Bondi Brass the best of all!
What is your day gig?
My regular job is an electrician. I had an electrical contractors business for 30 years. I worked in a coal mine during the War (1939-45). My job was driving the pony that pulled the tubs.
What's one skill or talent you have that might surprise other members of your band?
I was an amateur boxer in my early teens and turned professional while working in the mines. I fought under the name Sid Nissen.
Tell us some of the music you like listening to?
I love the soundtrack from a German film called 'Four Minutes'. The film is probably not suitable for kids but the music of Mozart is great.
How long have you been involved in the SBF?
I have been involved in the SBF since the start in 1962. It's great to see the increase in participants each year.
What advice would you give to the young musicians here today?
I've learnt a lot since I started playing trombone and if I could give some advice to young beginners it would be, whatever instrument you have chosen, you should consider it as a living thing; you will become part of it and it will become part of you. You must love your instrument as you do yourself. At home when you see your instrument sitting in its case, if you listen carefully you will hear it calling you, 'Practice me, practice me, practice me', it's saying, 'and I will reward you'. Heed what it is saying and you will improve and progress. And you will have a friend for life.
What would you like to see on your tombstone?
Discretion is the better part of valour.
Note: Sid passed away in 2017. Sid, we still salute you!