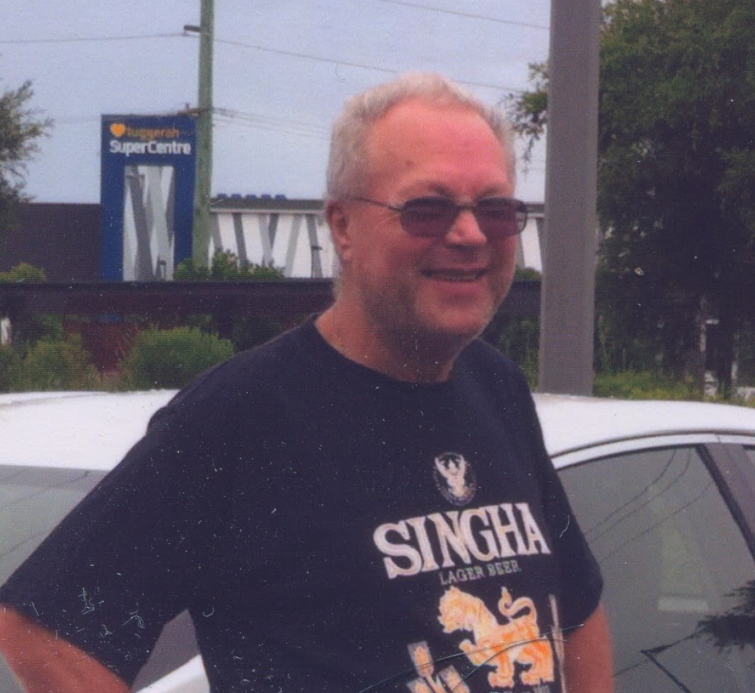 Kelvin Bakewell
Kelvin Bakewell has been a member of Bondi Brass since he was 12 years of age and has been volunteering at the Festival since that time. Kel is a grand nephew of Frank Coughlan, one of Australia's greatest jazz musicians, and is one of the great stalwarts of Bondi Brass and the broader Sydney band movement. Kel, we salute you!
I started playing the cornet when 12 years old was at school at Waverley College because my Grandfather, who played in the Newcastle Steel Works Band, also used to play. My Grandfather was Frank Coughlan's brother and the Newcastle band toured the world, winning three consecutive World Championships, so I guess it was in my veins (the Premier Big Band Event of the Festival is named in honour of Frank Coughlan).
In my 'real' job I worked for the NSW State Treasury when I left school. (Ed: Did you get any money out of them?) No, unfortunately I only had to accept my fortnightly salary which wasn't very much in those days! I then went on to work for Liquor, Gaming and Racing until I retired. Cliff used to always refer to me as the Band's spiritual advisor!
What's the latest book you have read? I've just finished Robert Barret's You wouldn't be Dead for Quids which I loved (Ed: we are not surprised given the main character is a top bloke, fond of a drink and loves a laugh).
If I won the lottery I would look after my family (Ed:[hopefully] and friends?). And friends (laughs). And I'd get myself a new trumpet. I've never owned a new trumpet in my life. (Ed: what about a new cornet?) No, I'm pretty happy with the one I'm playing!
I'm a simple man. My last meal would consist of a pie and a beer. And as far as my tombstone is concerned, I don't really care so long as my name is spelled correctly!
What's your earliest memory of music? Listening to the Beatles on the radio and my grandfather playing Black Dyke's (English brass band) records. Cliff telling me how to hold a cornet when I first joined the band. I still remember his first piece of advice on how to produce a sound. 'Just pretend you're trying to spit paper of the tip of your tongue and it will come'. He was right. His other great piece of great was 'tips of the fingers on the valves' and 'no more than 2 hours practice after you get home'.
What's your proudest moment in music? Playing in the Opera House playing David Stanhope's Leadsman, Lady and a Lord with Paul Goodchild playing a Concerto in the same concert. It was memorable.
What's the funniest/craziest moment you've ever had in music? Playing at Randwick Racecourse on Anzac Day Cliff didn't hear the announcement and the band played right through the Last Post. (Ed: The racecourse was a minefield for us. I remember the band playing on Epsom Day and Cliffy didn't hear that the race was about to start. I tried to warn him but kicked off a march. They'd gone about 200 metres and the crowd was getting restless. Anyway, we got to then end of the first strain and we could have just stopped, but not old cliffy. On we went. That was too much for the punters and they turned on us. Cliffy quickly shut us down and we snuck off for a cup of tea before the race ended! Clearly the Epsom meant more to the crowd than the Last Post)
What is the most challenging thing about playing music? Keeping up the practice. But you've gotta keep up the practice, that  way you enjoy it more. I still get nervous, most especially when playing a solo, but even playing in a group, however, I love playing music and I just persevere.
What music do you love listening to? What's your favourite performer/band ? What's the best concert you have ever been to? I enjoy supporting live music. I listen to a local band called the Flaming Beauties most Friday night's but the last big artist I have seen was Paul McCartney. It was a great  concert. Probably the best I have seen.
What's your favourite film music? I'm a big fan of John Williams
If you could bring one musician back from the dead, who would it be and why? John Robertson, a great  Australian trumpeter and John Lennon
Besides your current instrument what's the one other instrument you would really love to have learnt and why? I would love to play the bass guitar.
What's your earliest memory of the SBF? How long have you been a volunteer? I started volunteering at 12 years of age in 1957 when we were at Sydney Boys High.
How has the SBF changed in the time you have been involved? There's a lot more concert band today. Back in those days most bands were brass bands and there were no jazz/stage bands and I'm most impressed with the people who run the Festival (Ed: that last bit took some coaxing)
What do you most like about the SBF/why do you volunteer at the SBF? It great seeing the smiling faces of the kids after they performed and the pride on the parents faces. Music is a great thing.
What advice would you give to the young musicians here at today's Festival? Keep it up when you leave school and join a community band and you will have a great hobby for life. The best thing you can do to improve is play long sustained notes. If you want people to listen to you, you've got to have a good sound.